American Music Club
Biography
Over the course of seven acclaimed albums, American Music Club became recognized as perhaps one of the most important, eloquent, unique, talented, revered and influential U.S. bands. They tied together the disparate strands of the American musical fabric — rock, folk, country, punk, even lounge schmaltz to make remarkably distinct and riveting music, with moments of haunting beauty and complex darkness. American Music Club is Critic Michael Goldberg has said "American Music Club make a dark, atmospheric music that sounds a million miles away from its rock, folk and country roots. Electric Guitars wheeze and moan through their songs, along with the occasional dreamy piano and gentle strum of an old mandolin. The songs often have the unpredictable dynamics of a jazz combo with, say, Tom Waits at its ." If you are a fan and do not have these earlier releases or if you want to start near the beginning and get to know one of the greatest bands ever to come out of America these release are a great place start.
American Music Club's story is not an unusual one. The musicians met in bars, through mutual friends and interests, and according to main songwriter and now solo artist Mark Eitzel, formed the core of American Music Club in '83. The band consisted of Eitzel, guitarist Vudi (born Mark Pankler), bassist Dan Pearson, keyboardist Brad Johnson and drummer Matt Norelli. What is unusual is the beautiful music they created during their time together. Almost from the start, rock critics have loved American Music Club. For eight years from the release of American Music Club's first album "The Restless Stranger" on Frontier Records through their fifth album 1991's "Everclear"on Alias Records reviewers have raved about the group, while singling out Eitzel for extra praise. England's "Melody Maker" called Eitzel "one of the greatest living songrwiters" The "Village Voice" compared him to Steinbeck. The "San Francisco Chronicle" rock critic Joel Selvin described Mark as a "Combination of Bruce Springsteen, Van Morrison and Bono".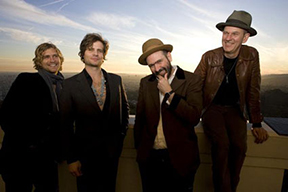 American Music Club's existence was tumultuous, to say the least; Mark was prone to facing his demons while onstage, and as such earned a notorious reputation. After endless touing, five records and an EP ("Rise" also on Alias) on independent labels, the band tried their hand with the major labels by signing with Warner Brothers Records. Yet despite the major label push and the lavish critical praise heaped on the band and albums like "Everclear", the group never rose beyond a fierce cult following. Eitzel quit the band on numerous occasions, and while still fronting American Music Club, he issued his solo debut, "Songs of Love", a live acoustic set recorded in London (British audiences being much more receptive to his music than their American counterparts). A subsequent solo single on Matador, the lovely "Take Courage," increased rumors of the band's impending breakup, but they did not truly implode until after the release of 1994's "San Francisco".
Mark Eitzel is now a solo artist, with two releases on Reprise Records "40 Watt Silver Lining" and "West" and another "Caught In a Trap and I Can't Get out Because I Love You Too Much Baby" on Matador Records. On his "West" he collaborated with Peter Buck of R.E.M. to produce one of his most polished records to date. "40 Watt Silver Lining" is his most serious and jazzy (and my personal favorite) where as "Caught In a Trap and I Can't Get out Because I Love You Too Much Baby" is his most upbeat release since recording with American Music Club. Whether you are a fan of American Music Club or Mark's solo work, if he comes to your town don't miss out seeing this magnificent artist.
Official Band Links
For additional information on American Music Club please visit the links below:

American Music Club Official Website

American Music Club on Facebook