Archers of Loaf
Biography
Eric Bachmann- vocals, guitar
Matt Gentling- bass
Eric Johnson- guitar
Mark Price- drums
Life has been good to Chapel Hill, North Carolina's Archers of Loaf. In the five years and four full lengths that the band has been in existence, the fellas have managed to record some dazzling music, travel the world with other similarly gifted musicians and have a helluva lot of fun. Besides enjoying themselves, the band has garnered the kind of widespread critical acclaim usually reserved for artists with a longer track record. They have become one of the most critically acclaimed indie rock bands of the 90's . The Archers have set themselves apart from the masses musically by displaying a distinctive style in their songwriting; they maintain their unmistakable sound while continually exploring new territory. Here's a brief chronological history of each release and some comments about various records from the main songwriter Eric Bachmann, for those who want more detail and those who may not know about this amazing band…
The EP: "Archers of Loaf vs. the Greatest of All Time" or "G.O.A.T" for short, merited the band even more College radio play and much admiration. For some this EP is the greatest Archers release of all time – it's one of Eric Bachmann's favorite. It's definitely the shortest and best concept album ever released. The Archers head out across the U.S. and Europe for another year; an appearance at England's Reading Festival helps to build the profile of the band considerably. With that, the guys went back in the studio.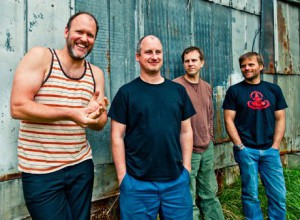 The "there's too many great songs on 7″s and various Comps that need to be collected" record: "The Speed of Cattle" A Collection of B-sides, 7″ singles, alternate versions, extra tracks, live moments and John Peel sessions from '94. Somehow, this "collection" record sounded like it was always supposed to be an album. Cohesive, brilliant. Like the band had a secret plot to release the record one single at a time. "The Speed of Cattle" hit #2 on the CMJ charts and held in the Top 50 for over two months. Spin observed that the album is "a picture of the Archer's at their trashiest." Precisely.
The Live EP: "Vitus Tinnitus" 10″ only Live recordings of your favorite songs as performed by one of the greatest live bands on the planet today. It was recorded live at Middle East Cafe in Boston, MA on October 20, 1996. This out take from the hardest working band today includes "Harnessed in Slums", "Greatest of All Time", "Form and File", "Nostalgia", "Audio Whore", "Underdogs of Nipomo", as well as re-mixes of "Vocal Shrapnel", and "Scenic Pastures".
Official Band Links
For additional information on Archers of Loaf please visit the links below:

Archers of Loaf Official Website

Archers of Loaf on Facebook

Archers of Loaf on Myspace
Fan Sites
Check out some of Archers of Loaf fan sites.

WebinFront