Caustic Resin
Biography
Bret Netson – vocals, guitar
Caustic Resin are prepared to give the world the ass kickin' its been waiting for with their latest release "The medicine is all gone". These Boise, Idaho favorites have come to Alias after releasing, "Fly Me to the Moon" and the split EP "Built to Spill/Caustic Resin" with Boise buds Built to Spill, both on Up! Records, as well as "BodyLove BodyHate" on C/Z Records. Forming in 1988 in their hometown of Boise, ID. Caustic Resin, along with past Boise alumni, Treepeople and Built to Spill have kept Idaho a fertile source of new music for quite some time now, as well as helping to shape the whole Pacific Northwest music scene.
Caustic Resin formed a decade ago when they used to share bills in Boise with Treepeople, Doug Martsch's pre-Built to Spill outfit. "Before then we were playing metal shows," says Netson. So the secret's out! Not only does Caustic Resin's music come from the other side — make that the wrong side — of Boise's musical tracks, it sometimes sounds like the train wreck itself. Which explains why Martch wanted Netson as an original member of Built to Spill. "(Martsch) kind of used me to f-things up, to give it contrast" Netson says. (Note: Netson is not to be confused with Brett Nelson, who has played on other BTS records.) Caustic Resin released their Up! and C/Z records by 1996 and Martsch brought Brett back to add his signature guitar flourishes to Built to Spill's "Perfect From Now On". Other than that the band spent endless hours drinking beers and spreading the Resin's intense brand of guitar heavy acid rock by touring. Some days you could find Netson and Romich busking on the street with acoustic guitars. All the while they were waiting to see where their music would take them next.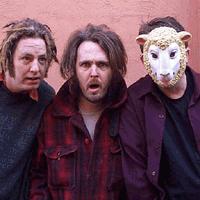 Here's what some critics have said of Caustic Resin in case you care about this kind of hullabaloo. AP remarked – "Caustic Resin: they make you think while killing your brain cells", while Puncture foretold of "stoned heavy guitar tweak with blues flourishes rife with the kind of dysfunctional, depressive tales that can only come from living in here and now." Magnet named "The Medicine is All Gone" one of the Top 20 Records of 1998. But Moo was on the mark when they noted that Caustic was " One in a million. The key word here is originality."
Visit their official website HERE.