Loud Family
Biography
As Option said, 'If you're already a fan of the Loud Family, you don't wait for reviews of the latest album-you know it's going to be brilliant." As Rolling Stone noted, the Loud Family are "smart, funny and instantly memorable." As Stereo Review observed, they're "the smartest, most imaginative rock band in America."
The latest, ATTRACTIVE NUISANCE, is a complex, thoughtful album that's going to grab you like good pornography. From the opening sonic rocket-ride "720 Times Happier Than The Unjust Man," to the ultra-pop of "Save Your Money" and "Years of Wrong Impressions," to the wry festivities of "Backward Century," ATTRACTIVE NUISANCE delivers track after track of tasteful, artistic nudes! You will love this record!
The Loud Family debuted on Alias Records in 1993 with the Mitch Easter produced PLANTS AND BIRDS AND ROCKS AND THINGS. It was a Melody Maker album-of-the-week, and Aimee Mann recently called it one of the five best records ever made.
The 1994 follow-up was THE TAPE OF ONLY LINDA. Dark and jagged, it made Rolling Stone's year-end list of "albums to remember" and was described by Alternative Press as having "enough silky and gnarled gems to woo any fan of exquisitely crafter rocque."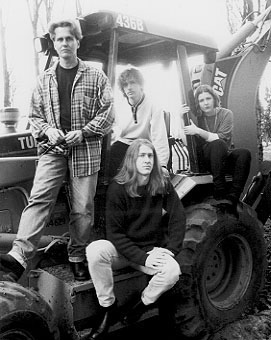 1996 saw the release of the ambitious and experimental INTERBABE CONCERN, an album reminiscent of LOLITA NATION, the cult classic by guitarist/vocalist Scott Miller's previous group Game Theory. It's "a truly brilliant record" according to Cake and "damn near a masterpiece of beautiful pop" according to AP. INTERBABE is the first album to feature bassist Kenny Kessel, formerly of Indian Bingo.
The next-most-recent album, DAYS FOR DAYS (1998), was the first featuring the current lineup: Scott Miller on guitar, Kenny on bass, Alison Faith Levy on keyboards, and Gil Ray on drums. Most San Francisco music scene cognoscenti known Alison from her piano-based solo releases (including 1998's THE FOG SHOW) or film scoring. Gil Ray returns to the Scott Miller fold after recovering from a back injury, which interrupted his days as the drummer for Game Theory. DAYS FOR DAYS received four stars in the U.K.'s Q Magazine, and CMJ said "Miller and Family" construct arching melodies like master craftsmen, making each cut both sonically interesting and memorable."
Official Band Links
For additional information on The Loud Family please visit the links below:

The Loud Family Official Website