Neva Geofrey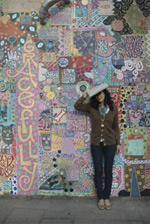 Neva Geoffrey's melodies have come together to form torch songs that take you to the depths of obscurity while remaining in your heart. With a record that emits her journey, you'll remember the now distanced moods that have once possessed you. The tender in her voice is found weaving through guitar strings, sweeping piano pop, or lurching in ambience just heavy enough and no heavier.
However, one parallel remains. She will thin the thickest of skins, and coax the toughest of brutes so that these thin skinned brutes can release their softer side. Warm, ethereal songs like 'Maiden Lane,' introduce her unique writing style as she expresses the doubt lurking in all our thoughts. 'Glass eyes' will help you recall your most prideful experience with love. Her debut album The Days are Rolling on Alias Records (Archers of Loaf, Yo La Tengo, The Scourge of the Sea) could easily compliment a record collection that already includes Dusty Springfield, Elliott Smith, Andrew Bird, and Cat Power. Neva Geoffrey has recently shared bills with Paleo, Kelpie, and The Duhks.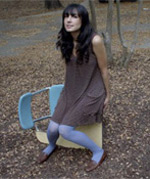 Bathed in the oasis of Austin in the otherwise conventional state of Texas, she left a family of musicians, bidding them the luck of the future for her own pursuit of this release and touring to follow. Prior to this endeavor, she was just east of the Pacific, exploring California academia. Now, tucked in the horse farms of Lexington, KY she is performing regionally and supporting the release of her debut album, spring of 2007.
Tony Bonyata
tony@machine-inc.com
Radio:
Brandon Day
TINDERBOX MUSIC
www.tinderboxmusic.com
Photos By:
Rachel Chui