Yo La Tengo
Biography
Yo La Tengo's career is a perfect example of what can happen when a band follows its instincts. Their music stems from an eclectic array of influences such as the Velvet Underground, Soft Boys, Mission of Burma and Arthur Lee's Love. They can unleash nine minutes of screaming feedback frenzies and move on to atmospheric hushed lullabies in the span of one album due to their extraordinary versatility and sure-footed musical craftsmanship. Having remained defiantly independent for fifteen years, they possess unending creative ambition, mixing ingredients from the whole of the American music tradition from New Wave to Punk Rock to Garage Rock from the Sixties.
When Kaplan and his wife Georgia Hubley (drummer/singer) formed the band in Hoboken in 1984, they made it no secret that they were pop fans who wanted to hang out with their heroes. When they started playing together their influences ranged from Garage rock from the sixties, to the American New Wave-scene, with bands like Television, Feelies and DB's. Punk rock was also a major source of inspiration. Yo La Tengo's sound comes also stems from the post-pop noise scene created by the likes of Sonic Youth, My Bloody Valentine and earlier excavations by The Velvet Underground (an influence that is undeniable in their work). Kaplan's introverted, half-spoken vocals and buzzing guitar work closely recalls Lou Reed, while Hubley's rock-steady drumming and breathy backing turns simultaneously conjures memories of vintage Maureen Tucker. Actually, Yo La Tengo's sound has been so often compared to the Velvet Underground that they even portrayed the legendary group in the 1996 film "I Shot Andy Warhol".
Since 1984, this trio and or duo and or quartet, has released ten critically acclaimed poignant albums and compilations of defiant guitar rock, combining lyrical with experimental spontaneity in an utterly unique way. In addition there are numerous EPs, 7″s, CD singles and appearances on compilations and soundtracks. Even before signing to Alias Records in 1992 Yo La Tengo had already released 4 full length records, a few 7″s and two EPs on Coyote Records, compilations on Homestead Records, Blue Plate Music and various European labels, more 7″s on varied labels and another full length on Bar None Records.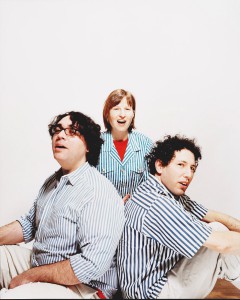 In 1992 Alias released "May I Sing With Me", the first effort to feature permanent bassist James McNew (formerly of Christmas). It was recorded at Fort Apache studios in Boston and was engineered by Lou Giordano. With the arrival of James the trio found its niche-not quite a pop band, not quite a guitar-jam band, but with touches of both. Every album since he joined the band has had a few indelible pop tunes and at least one lengthy guitar workout. "May I Sing With Me" contains hot-wired extremist guitar tendencies with the occasional sidestep into melodic beauty like the song "Detouring America With Horns" or the infectious indie-pop classic "Upside-Down". After releasing "May I Sing With Me" Alias released the "Upside Down" extra long EP. "Upside Down" actually contains an album's worth of music disguised as an EP. It contains a cover of the Beach Boys "Farmer's Daughter" and a 25 minute classic "Sunsquashed" which outdoes even the feedback workouts on "May I Sing With Me", as well as three other songs. Both of these releases are an absolute requirement for fans and newcomers to the band or the genre.
Always on the move the band signed with Matador Records and have released four full lengths, re-released some of Yo La's earlier recordings that came out on Coyote Records, released numerous 7″s, four EP's and a Compilation on Matador. There is also more 7″s and soundtrack appearances as well as a Compilation on Caroline and WFMU. They also did a cover of Jefferson Airplane's "Go Ask Alice" for the Simpson's episode where Homer goes back to the commune where he lived with his mother and becomes a Hippie.
Official Band Links
For additional information on Yo La Tengo please visit the links below:

Yo La Tengo Official Website

Yo La Tengo on Facebook

Yo La Tengo on Twitter

Yo La Tengo on Myspace