Barry Black
Biography
Solo project from Eric Bachman of Archers of Loaf.
Eric Bachmann, who spends a good deal of his time as the vocalist and guitarist of North Carolina pop-noisesters Archers of Loaf, has assembled a solo project, titled Barry Black. The second album,"Tragic Animal Stories", offers more of Bachmann's atmospheric aural imagery that permeated the first record, 1995's Barry Black. While Bachmann is the producer of "Tragic Animal Stories", it was recorded and engineered by Bob Weston, known for his work with Sebadoh, Velocity Girl and Polvo.
The idea behind the project started when Caleb Southern (who has produced Archers of Loaf and Ben Folds Five) and Bachmann were roommates. As there was recording equipment lying about, the two began playing around on the sound board. Barry Black was Bachmann's inaugural move in a direction that was more musically adventurous than his previous projects; fans were surprised ("I can't believe it's that same guy from the Archers of Loaf!") and critics were charmed. While recording the first album, 1995's self titled Barry Black, Bachmann allowed his collaborators to develop their own lines within the framework that was laid out for them. Helping on this project were Ben Folds (Ben Folds Five), Frank Heath (owner, Chapel Hill club Cat's Cradle) and Chris and Jim Clodfelter (Geezer Lake), among others. Bachmann favored the idea of a spontaneous collaboration with fellow musicians to see where the path would take him. Bachmann's use of guitars, banjo, bass, alto sax, water pot, train whistle, clarinet and "noisy key- boards" made for an unsettling cacophony. The result was creative chaos. "Chaos can lead to something interesting," Bachmann has noted. "I don't think things have to make melodic sense all the time."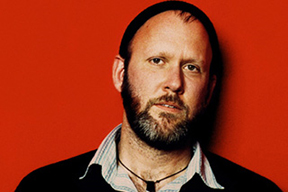 "Tragic Animal Stories" has a little help from Bachmann's friends too. Fellow musicians and grad students from nearby North Carolina School of the Arts all had a hand in creating Bachmann's composition. Chris Wabich played drums, percussion, vibraphone and marimba. Recording engineer Bob Weston added guitar and trumpet to the mix. (Bachmann tackles piano, guitar and samples). There are specific vocals that pop up on this instrumental album, but Bachmann insists that vocals were employed for tonal quality rather than lyrical content. "Tropical Fish Revival" illustrates his point. Bachmann remarked, "I do spend a lot of time with words, not necessarily with what they mean but the way they sound against the music." Bachmann's solo work rejects the formulaic musical approach. Experimental music devotees will embrace this recording the way Bachmann himself embraced the challenge of creating music brimming with diverse styles.